Tips for Creating a Winter Wonderland Model Train Layout
With so many opportunities to see family and eat delicious foods, the holiday season has a unique and joyful ambiance. Decorating for your favorite holiday helps to make the season even more special, bringing that holiday joy into your life for many weeks instead of just one day.
Why not decorate this year with a very special holiday arrangement, like a winter wonderland model train layout? You can make it a solo project, or grab your friends and family and build it together. Check out our tips for making the process easier.
Telling a Winter Railroad Story
Before you start thinking about the details of your layout, like the kind of train you want to build or how to stick snow to your tracks, consider what story you want to tell with your model railroad. Do you want to make a historical scene or a fantasy one? You can even make a model railroad based on a classic holiday movie:
How the Grinch Stole Christmas
The Nightmare Before Christmas
The Polar Express
Home Alone
It's a Wonderful Life
A Christmas Carol
No matter what theme you choose to build your layout around, it's important to plan the interactions between your train and the scenery. Perhaps your train picks up people from a faraway station and brings them into town to see friends and family. Maybe there are children throwing snowballs at the train as it passes. The more of these little stories you include in your layout, the more it will come alive.
Creating a Wintery Ambiance
While storytelling is important in creating every model railroad, holiday ambiance is typically on another level. We've got some amazing tips for creating a winter wonderland model train layout that gives you all the nostalgic and festive feelings of the season.
Choosing a Setting
Holiday model train layouts are very different. Some people prefer sticking to realistic, history-based layouts, while others might want to dip into fantasy for the season. In addition to making a layout based on a favorite movie or holiday story, you can try some of the following ideas:
A winter layout of your hometown
A model of your family on a winter vacation
You and your friends visiting the North Pole
A busy modern shopping mall in the city
Celebrating the holidays on a rural farm
If planning a setting seems like too much pressure, you can make your decision based on what kinds of decorations and trains you are able to find. For example, if you can only find holiday-themed steam locomotives (and not diesel), then you might consider going with a historical layout, like a Victorian Christmas scene.
Finding Pre-Made Decorations
Many major model train companies make decorations specifically for the season. You can usually find figures dressed in winter clothing and trees with snow on their branches.
If you're looking for more holiday ambiance, you can search for holiday model town buildings with decorations and lights. Some aren't made specifically for model train layouts, so the scale may be a little off. Nonetheless, they will look amazing!
Making Your Own Holiday Decorations
Sometimes, it's hard to find the exact style of holiday decorations you want, or perhaps you celebrate a holiday other than Christmas, which tends to get the most attention in the US. Never fear! You can always make your own decorations using generic buildings and scenery and adding customized wintery vibes.
For example, you can put a tiny menorah or kinara in the window of a model building. Sometimes, you can find the right scale by looking at dollhouse decorations, or you can make your own out of crafting wire. If pre-made holiday buildings with wreaths and lights are not in your price range, you can make your own by adding tiny wreaths and fairy lights.
Adding Snow to Your Layout
Most of us associate winter with snow, even if we live in parts of the country that don't get a white Christmas. Snow flocking is the key to getting that perfect snowy wonderland look on your model railroad. There are a lot of different types available, but we recommend finding one that's intended for model trains or miniature painting (like D&D and wargaming).
Snow flocking is a loose white powder you apply in batches using white PVA glue. Make sure to texture the scenery under the snow first for the most realistic finish. We recommend setting the snow with a second layer of white PVA glue after the initial application so that it doesn't flake off when touched.
You can use this same process to apply snow to your entire layout: ground, buildings, cars, figures, and even your train. If you do add it to your train, be wary of adding too much, as it changes the weight of the cars. You could end up with derailing problems.
Choosing the Perfect Train and Layout
There really are no wrong layouts for a winter wonderland. However, we recommend you find a way to integrate the layout into the story or theme for your track. Some layouts may take up space you should save for decorations, like a switching yard. Otherwise, the only limit is your imagination!
Holiday Model Trains
Lots of model train companies make special holiday trains, many of which come in sets. Depending on the set, these trains may not be the same quality or detail as individually purchased trains, but they certainly have a holiday charm. You may also be able to find limited-edition trains related to your favorite holiday films and stories, so keep an eye out for those.
If you're not interested in holiday-specific trains, you can still keep up the seasonal vibes by choosing locomotives and rolling stock with holiday colors, usually red, green, blue, and white.
Get Started Planning
Creating a new holiday layout requires a lot of work, so why not start now? Doing so will give you plenty of time to work out the details so you can enjoy your winter wonderland layout all season long.
To find seasonal trains and scenery, we recommend visiting a hobby train store, like Midwest Model Railroad. We have one of the largest supplies of locomotives, rolling stock, battery systems, scenery, and layout-building tools, both in-store and online. Don't see what you're looking for on our site? Give us a call or send us an email, and we'll help you find the perfect parts for your next build!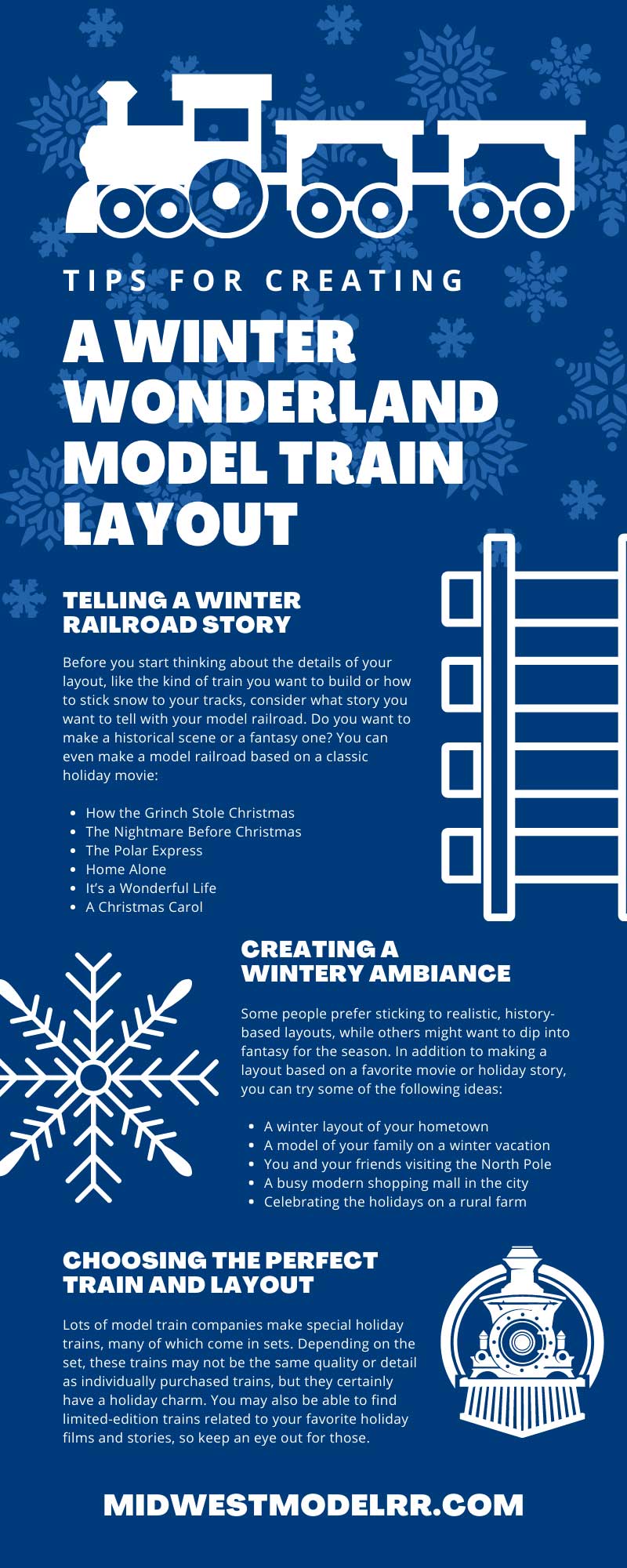 Recent Posts
Pretty much every hobby is more fun when you do it with other people. If you're a fan of model train

Are you thinking of building your own model railroad? Creating a layout from scratch is the best way

Many a model railroader has struggled with utilizing layout corners in interesting ways. The reason