How To Choose the Best Model Railroad Set
One of the best parts about model railroading is that there are so many ways to personalize your experience with the hobby. However, all those choices between train lines, scales, gauges, historical periods, and power systems can be daunting for newcomers.
Thankfully, there's an easier way to get started with model railroading: the model train set. Learn why sets are such a great deal for starting out in the hobby and how to choose the best model railroad set.
Why Start With a Train Set?
When you're just getting started in any hobby, sets are usually the way to go. Prepackaged sets give you all the tools you need to learn the basics. In this case, that means learning things like how to lay down track, couple and uncouple cars, and manage basic power systems like DC (direct current).
Almost every kit will come with a guidebook that tells you what you need to know and helps you troubleshoot the most common problems. The guidebook might also caution you about mistakes beginners usually make, like running track on carpet instead of a table.
One of the most practical reasons to get started with a train set is the cost factor. When you're buying everything separately, rolling stock usually costs about $20–30 each, while locomotives can be hundreds of dollars. And that's just for the train with no track or power system included!
That's a lot of money to throw around when you don't even know the difference between some of the options yet. A kit is the perfect way to get your feet wet and start to learn what your preferences are before you begin investing in more expensive, high-quality pieces.
What's Included in a Set?
The exact contents of a model train kit vary, but here are the most common components:
A locomotive
A caboose
2–3 rolling stock cars
Enough track to make an oval
In addition to these, train kits often come with easy coupling systems that may not look super realistic but are easy to latch and unlatch. When you start upgrading to higher-quality train pieces, you may need extra tools that these kits don't include.
Another thing that train sets may come with is a basic DC power system and controller. If the set says it's compatible with DCC (Digital Command and Control) then you may need an app or other power system elements in order to run the train. Always verify the set's contents so you don't accidentally purchase something you can't use.
What's Up With Price Differences?
As you shop for model train kits, you may notice that there are some pretty big price differences. Most train kits start around $150, but they can get much more expensive than that. What's determining these different price points?
The most common difference is between DC and DCC train sets. When you run a track on DC, you set the power (and therefore the speed) for the entire layout at one time. All trains running on a DC track run at the same speed.
With a DCC power source, you can get way more detailed about the electrical operations of your track. DCC locomotives tend to come with more bells and whistles (pun intended), plus special effects like smoke.
These features aren't exclusive to DCC sets by any means, but having all those extra options tends to drive the price up quite a bit. You may also get slightly better construction in a more expensive set, though not as nice as cars and engines that you purchase individually.
As you shop around for your first model train kit, here are some of the brands that sell model train sets:
Walthers
Bachmann
Kato
Lionel
Piko
What To Consider When Buying a Train Set
There are a lot of things that go into choosing a model train set. Here are some of the things you may want to consider:
Layout size
Set cost
Time period
Layout Size
The main thing that determines layout size is scale. When looking at model train descriptions, you'll typically see the scale listed in letters (HO) or as a ratio (1:87). For HO scale, it would take 87 model cars lined up end to end to match the length of a real train car.
While HO is the most popular scale, there are many others. If you don't have much space to spread out your track layout, you may want to choose a slightly smaller scale like N scale so that you can fit complete tracks into a more compact space.
Set Cost
As we mentioned earlier, there is a difference between buying a train set that's $150 and one that's $300. You'll probably notice that more expensive trains have DCC compatibility and may not even come with a DC power supply or controller. However, the higher cost may get you better quality construction, more attention to realism, and more exciting special effects.
One thing to remember about buying sets is that you can't just add more track pieces later and expect the set to work the same. The DC power supply in most sets isn't strong enough to run anything much larger than the original oval track. Buying a set is a great way to start learning, but it isn't necessarily going to transition into a more advanced layout later on. Keep that in mind when you set a budget.
Time Period
Some model railroaders have a strong attachment to running trains from certain historical periods. If this is you, then you may want to compare several sets that all run the same type of locomotive (steam, diesel, etc.). If that's the time period you want to work with, then it's a good idea to get started learning about the model trains in that era.
Finding the Right Train Set for You
Here at Midwest Model Railroad, we have tons of train sets and model railroad supplies for you to choose from! Plus, we're always happy to chat if you need help choosing the best model railroad set for you. We have one of the largest collections of model train gear both in person and in our online shop. Getting started railroading has never been easier!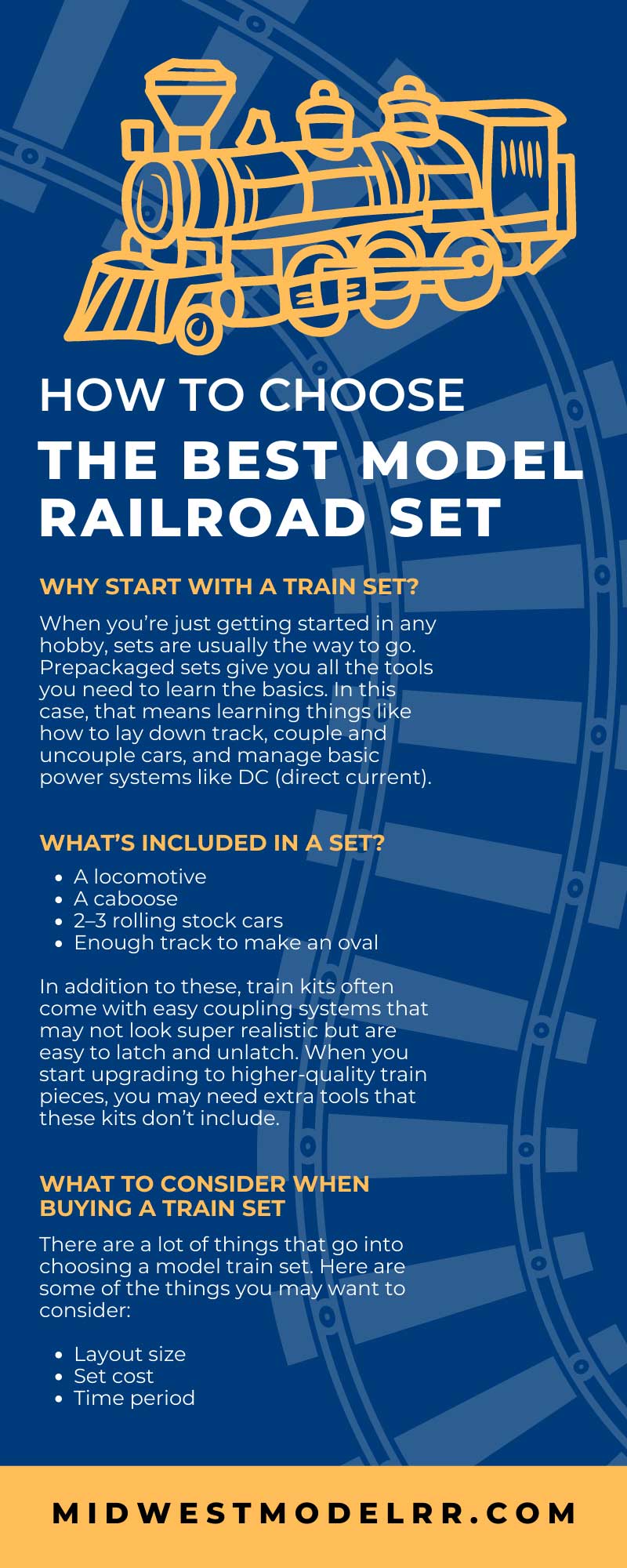 Recent Posts
Digital Command Control (DCC) has revolutionized the world of model railroading. If you're a model r

In the vast landscape of the United States, where the car has long been king and air travel dominate

In the vast tapestry of the American transportation network, Class I railroads play a pivotal role.