The Difference Between Passenger and Freight Trains
Many still consider travel by train to be fun and romantic, but the number of people actually riding trains has decreased. Declining public demand has led to some drastic changes in the American railway system, including the separation of passenger and freight trains. Keep reading to learn about train history and the difference between passenger and freight trains.
The History of Train Types
In the early years of the twentieth century, almost everyone traveling between cities did so by train. Train companies operated both passenger and freight lines, and often ran mixed trains, which included cars of both types. Once at a station, trains would change out the order of cars depending on where they needed to go. However, things didn't stay that way.
The Early Twentieth Century
As time went on, engineers developed new modes of public transportation; this included things like cars, buses, and airplanes. New transportation types always have a certain draw because the public sees them as high-tech, and these new industries started to give the railways steady competition.
World War II
There was a brief respite during World War II as the government started rationing gasoline, which made private travel more expensive. People flocked back to the railways, and the train companies put a lot of effort into creating high-tech passenger trains. Ultimately, though, there was nothing they could do to stop the decline in train popularity long term.
After Amtrack
In the 1960s, the train companies began to suspect that the end of American passenger trains was at hand. Several groups tried to put all passenger trains into one governing organization, but this attempt failed. Eventually, President Richard Nixon signed the Rail Passenger Service Act, which created the National Railroad Passenger Corporation. Its public name is Amtrak.
Amtrak was never intended to be a long-term solution to America's public railway transportation problem. In fact, many people didn't expect it to survive more than a few years. However, public support skyrocketed in the 1970s, giving Amtrak enough money to continue operating. While the COVID-19 pandemic lowered the number of annual passengers, figures are on the rise once again.
What Happened to Mixed Trains?
Today, Amtrak controls a large portion of intercity passenger railway travel in the United States. Private companies own the freight trains. There's really no incentive for freight trains to put passenger cars on their lines since demand is lower than what they would need to make a profit. Amtrak occasionally puts freight cars on its passenger lines, but this is becoming rare.
Modern Passenger Trains
Despite a decline in popularity, passenger trains still exist in the United States. Most of their riders are in New England, in what the train world calls the Northeast Corridor. Traveling by train from New York to Washington, DC, is much more comfortable than flying, so it's an easy choice for many commuters. You get more legroom, access to Wi-Fi, and the ability to bring more luggage without paying an extra fee when you choose to take a train.
Long-Distance Travel in the US
Not many people travel across the country via passenger train, but there are enough to keep those routes in operation. For those who do, traveling by train is part of the fun. They're not looking to get to their destination as fast as possible; instead, they travel by train to enjoy the experience and have time to meet their fellow passengers.
Passenger Trains Worldwide
Passenger trains are still widely used in many other countries. The countries with the top number of passengers in 2019 were:
Japan
India
China
Germany
France
United Kingdom
These numbers don't include metro systems like the UK's London Underground, which regularly sees over 1 billion passengers every year. Rapid transit networks and metro systems typically carry more traffic than long-distance trains.
Modern Freight Trains
The main difference between passenger and freight trains is what they carry. Passenger trains carry people, while freight trains carry goods, raw resources, and even the mail. Because freight trains no longer need to carry passenger cars, engineers have changed their design. These changes mean that freight and passenger cars can no longer travel together.
Air Conditioning
For people to travel comfortably by train, they need proper air conditioning and heating. However, most goods don't need this level of temperature control. Cold goods are placed in refrigerated boxcars, but there isn't any A/C running through the entire train.
Train Speed
Passenger cars need to travel at certain speeds in order to get passengers to their destinations in a timely manner. Shipping freight by rail doesn't require the same sense of urgency. After all, a pallet of soda doesn't have a tight connection to make, whereas a person would. These speed differences mean you can no longer put freight cars in the same train as passenger cars.
Braking Systems
Another reason these two train types can't travel together anymore is their braking systems. Passenger cars have disc brakes that come with a graduated release feature, which helps keep stops smooth for passengers. Freight trains don't need this feature, so their brakes release all at once.
If passenger cars were attached at the rear of the train, the people inside would feel the train pull forward after the brakes release. This would be unsettling for passengers, meaning it's not a good idea to put these different brake styles on the same train.
Freight Switching
The final problem in recreating the mixed trains of yore is the trouble of freight switching. Because industrial yards are usually unsightly, most of them are on the outskirts of town. However, a passenger station needs to be convenient for people to get to, so it's typically located in or near the town's center. Running a train through a passenger station and freight yard would be a huge hassle.
The Future of American Trains
In recent years, some private companies have developed plans for implementing high-speed passenger rails in the US. Without these more convenient modes of transportation, it seems unlikely that the majority of Americans will suddenly abandon their cars.
If you enjoy the history of trains, you might consider getting into the model railroading hobby. Midwest Model Railroad can help you start your collection of HO scale rolling stock and locomotives—there are even model Amtrak trains available. Contact us today or check out our blog if you have any questions about getting started!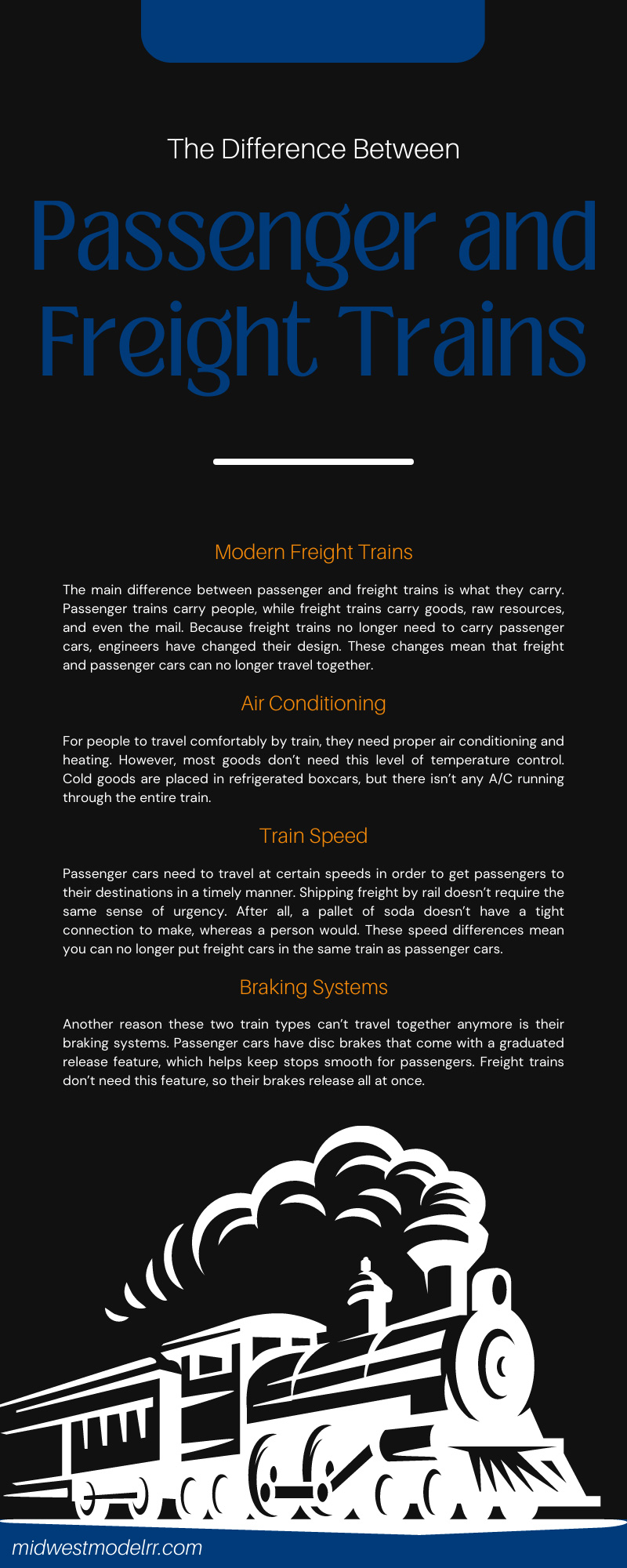 Recent Posts
Model railroading is not merely a hobby; it's a journey through time, allowing enthusiasts to recrea

Welcome to "Crafting Realism: A Journey into Historically Accurate Model Railroading." This series a

5.1 Weathering and Aging Your Scenery Over TimeCreating a truly authentic model railroad experience